DCT introduces Syrus 4G IoT Gateway

Miami, Florida – Digital Communications Technologies, LLC (DCT) introduced its next-generation telematics device: Syrus 4G IoT Gateway; specially designed for Fleet Telematics where developers can build, run and deploy embedded applications with real-time computing power and data storage.



DCT, with more than 20 years developing IoT devices for Fleet Telematics and trusted by integrators and service providers around the globe; announced today the immediate availability of the new generation Syrus 4G IoT Gateway with edge processing and data storage. This multi-network, global coverage device connects to 2G, 3G, and 4G (CAT4) cellular networks, providing connectivity with 19 LTE bands and making it the ideal solution for global deployments. Thanks to the pre-provision state-of-the-art trust platform with crypto-authentication element; application developers can benefit from firmware verification, message encryption, token-based authentication, and intellectual property protection.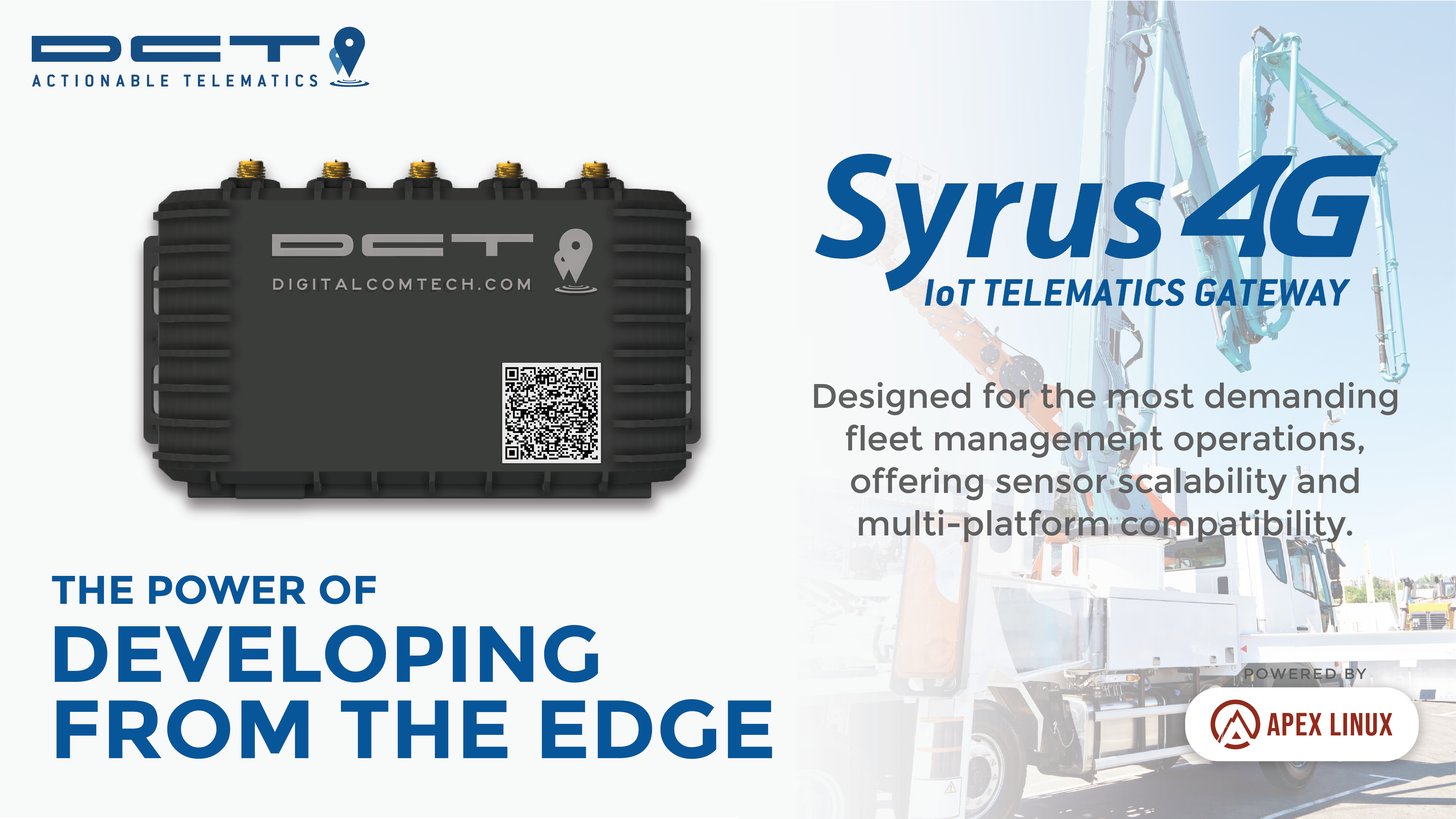 Start building your next project with Syrus 4G IoT Gateway.
Edge Computing is transforming the way data is being handled, processed, and delivered placing compute and analytics closer where data is being generated. Syrus 4G is powered by DCT Operational System Apex, an open-source custom development architecture based on Yocto that simplifies IoT development and provides computing power on the device. It dispenses a flexible set of tools and space where embedded developers can build applications based on the following hardware configuration:

• TI ARM Cortex-A8 core processor, AM3358 1GHz.
• 512MB DDR3 RAM / 4GB 8-bit eMMC Flash
• Micro-SD card up to 512GB of storage.
• Bluetooth BLE 4.2 / WiFi
• GNSS (GPS, Glonass)
• Physical interfaces: CAN J1939 / RS485/232 / Ethernet
• Software packages installed: Python 2.7.17 & Node v10.15.3

Embedded SIM (eSIM) to backup all your operations.
In addition to the automotive internal grade SIM holder connector, Syrus 4G comes with an embedded SIM (eSIM) that can't be removed and is enabled to work with multiple cellular carriers with worldwide coverage. This eSIM, fully managed, can be used as main IoT connectivity with any cloud infrastructure or as the backup for the external SIM.
Device monitoring and management has never been easier using Syrus Cloud.
Syrus 4G IoT Gateway includes Syrus-Cloud; a remote management tool that serves as the digital twin or device shadow for easy device configuration, diagnostic and management. It gives service providers a cost-effective solution to monitor all their devices.
Ignacio Escallon CEO, DCT, said "Empowering developers to add real value and innovative solutions has never been easier using Syrus 4G. With Apex OS we are capable of achieving a level of flexibility that has never been possible before, allowing for true open embedded development and computing on the edge. Combining our years of experience in fleet management has given us the expertise to build robust SDKs & APIs that allow developers to complement their existing solutions or turn new ideas into a reality. Developers can harness the power of this custom development to build interconnected IoT Applications capable of scaling across multiple verticals"
Syrus 4G IoT Gateway connects with any platform.
Using lightweight MQTT standard IoT messaging protocol to publish/subscribe data with any broker and minimal network bandwidth; Syrus 4G guarantees a secure and reliable two-way message communication.
One device, Multiple applications Infinite possibilities for all your needs.
With Syrus 4G and Apex OS, system integrators, service providers, fleet operators, and developers have endless possibilities to create applications and solutions for Fleet Safety & Compliance such as:

• Virtual Copilot connecting Bluetooth speakers.
• Video Telematics using WiFi or Ethernet dash cameras.
• Engine diagnostics via the dual J1939 Can Interfaces.
• Tire Pressure Monitoring with integrated TPMS hardware.
• Driver Identification using face recognition embedded software.
• Cold chain temperature monitoring with wireless BT/WiFI temperature tags.
• Trailer Identification and recognition.
• Advanced Driver Assistance Systems (ADAS) technology with supported cameras.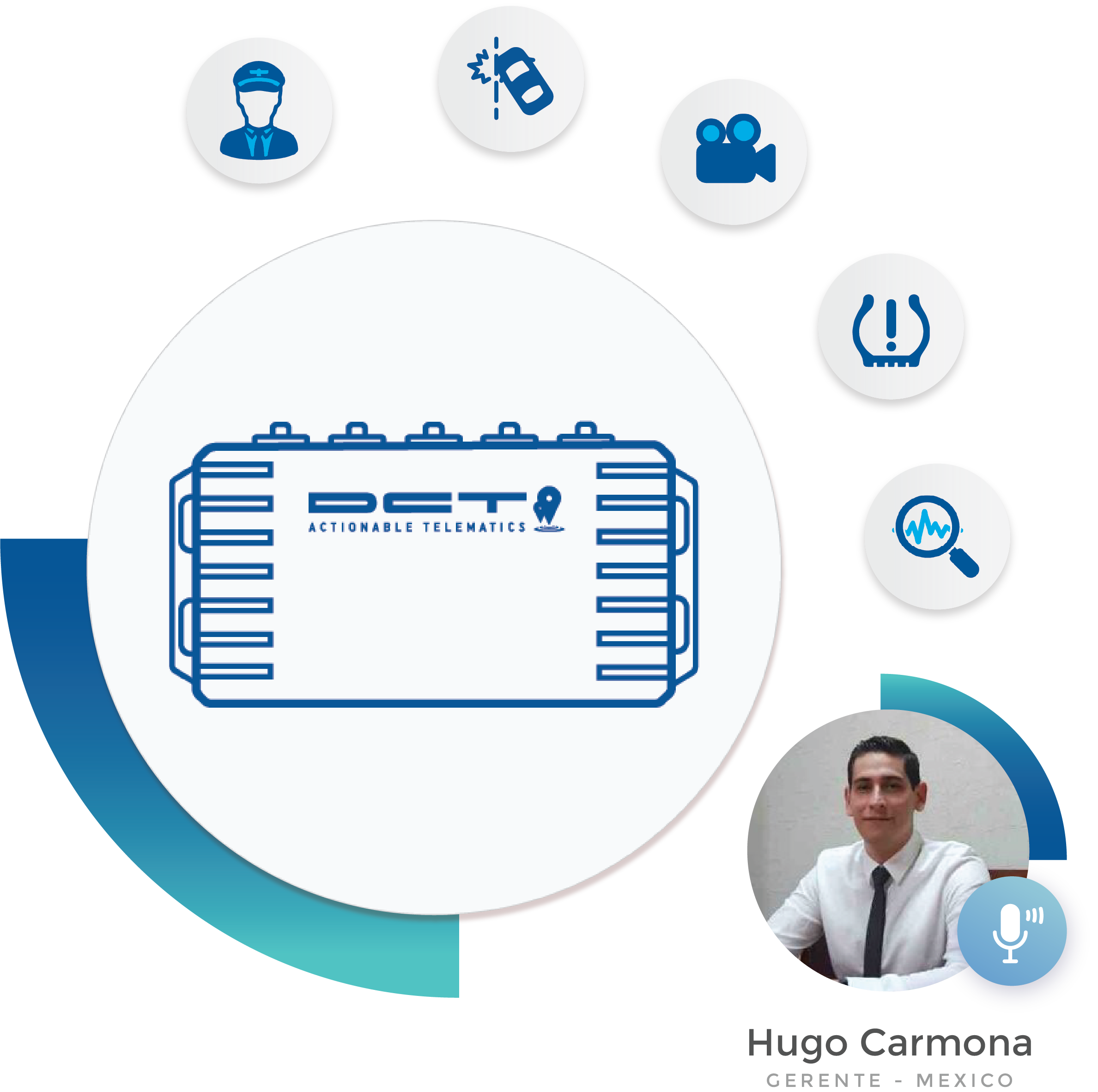 Syrus 4G IoT Gateway para automatización de flota
Miercoles, 28 de abril, 2021 | 10 AM – 11 AM CDT

We make it simple to build and deploy Fleet Telematics
and Industrial IoT Solutions from device to cloud.